Walked, Loved & Cared for Because you Care!
Background
In 1998 I was diagnosed with "Endometriosis" which resulted in not being able to have children, as you can imagine this was a very difficult and painful thing to hear, all women long to bring a child into the world.
In 1999, I adopted my first dog, she was a cocker spaniel. I named her Brandi. Brandi brought so much joy and happiness into my life she showed such unconditional love, and at times was quite funny. She developed a wonderful personality, just like her mommy!
I believe we are ALL on this planet for a purpose, and the purpose "for me" is caring for the animals. Maybe, just maybe this is why I was not able to have children, as crazy as it may sound, as my life would have taken a completely different direction.
My First Pet Changed my Life
Having Brandi changed me, she made me realize that having a pet was the most amazing thing anyone can ever get to experience.
I could have the most horrible day at work, and come home to Brandi waiting for her mommy at the door, it was like she always knew when I would be home, maybe she could read clocks. Smart girl!
Her tail would wag none stop, I use to worry in case it fell off, lol, she loved giving kisses and just the joy of happiness she showed because I was home, helped me forget the day I had at the office!
We were inseparable and did so much together, she was the child I could never have.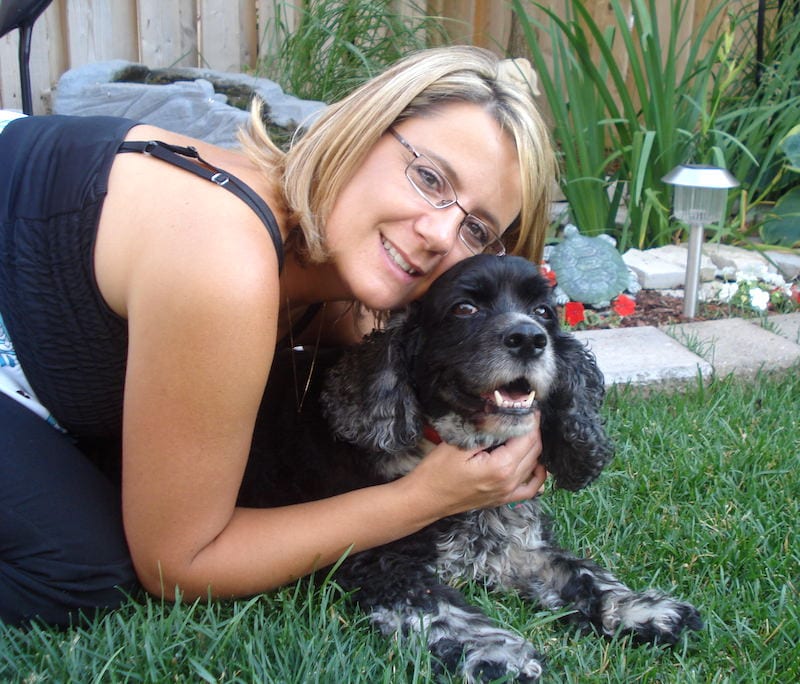 The Evolution of Julspops!
Sadly, Brandi passed away in September 2015 at the age of 16 1/2 years old.
Over the years we struggled to find a reliable dog walker for Brandi, with her having Cushing's Disease we needed someone to come in during the day so she could have a bathroom break and walk, as we both worked out of town.
It wasn't until 2016 when my Pet Business came about, starting this business was something I had in the back of my mind for a few years, with the 10+ years of struggles trying to find someone reliable for Brandi.
My business started due to an unfortunate situation but now, I haven't looked back and know this is where my heart belongs.
I don't want pet owners to struggle like we did, I want to be able to provide the best care I possibly can for their beloved family member. I want to be there for when they can't be.
How Did the Name "Julspops" Come About?
For many years people have called me "Jules", I knew I wanted Brandi to join me in this new adventure, after all it was because of her. This way she would always be with me, no matter where I went. So, I decided to put the two words together, and came up with "Julspops" as my official business name.
For more than 20 years now, I have had the pleasure of owning pet(s) my dogs now are Summer and Pebbles both rescues from "Helping Paws Rescue" in Aylmer, Ontario.
Not only do I get to share my life with my girls but also my amazing husband Gordon who has been very supportive whilst starting my pet business.
Nothing is too much trouble for 'Julspops', I always want the best for all my furry clients, they will be treated as if they were my own, and will become part of the 'Julspops' family.
This isn't "just a business" it is about your furry member becoming part of an extended family, my clients are loved and cherished friends, and the best care is all I want to provide, every time, not just the first time!
I leave personalized report cards, send photos and videos of our time together, and I keep you up to date on your pet(s) or home.
You will find my services to be extremely reliable, and in addition in providing the utmost care, check out my CREDENTIALS and CERTIFICATIONS
Credentials and Certifications
Master Business Licence with the Government
Current Police check with the City of London
Certificate of Membership to Pet Sitters International (Educational Online Training)
Member of the Better Business Bureau
Updated pet first aid with Walks and Wags.
I have access to continued online training with Pet Sitters International as well with New Skills Academy.
I have won awards from 'Three Best Rated" for being one of the 'top 3 dog walkers' in London, 2018, 2019, 2020 & 2021, Business of Excellence 2019, 2020 & 2021.
Check out my testimonials, see what clients are saying about Julspops. Any questions please reach out, would love to chat, and for your pet to become part of the Julspops family.
Over the years, I have established many great connections with local businesses. The following establishments have played a truly helpful role in making Julspops a success. Maybe they can help you too!